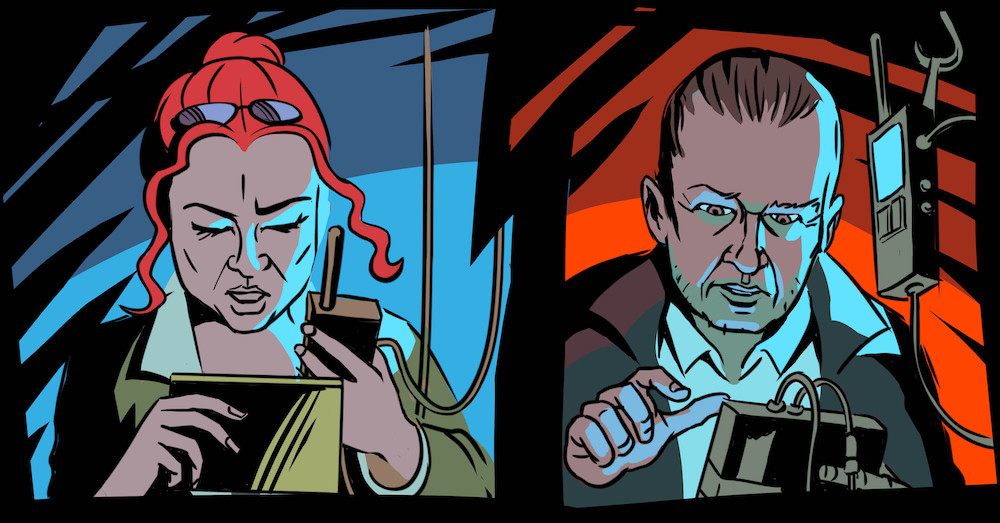 11 reasons why an online escape room is better than the "normal" one
When I first told my parents that I was going to do an escape room, they looked at me confused. Having never heard of an escape room before, I explained to them it involved being locked in a room with friends where you have to solve puzzles in order to unlock the room in order to escape. They both just looked at me with disbelief as my mum nodded sarcastically while my Dad said "why would you pay for something like that". They certainly didn't seem sold on the idea, however, my friends and I were excited to give it go and we loved the whole experience so much that we did one escape room after another. It became one of our favourite things to do on a night out. However, that all came to an abrupt end when Covid-19 took over the world and we were all plunged into lockdown. We decided to give some online escape rooms a try for a fun night in, and we were surprised to find there were actually a lot of benefits. We all agreed that in many ways it was actually better than the real thing. So, if you have been considering giving online escape rooms a try but aren't sure yet then let me give you eleven reason why you should give them a go…
1. Convenience
You get to spend time with your friends in the comfort of your own home while wearing your favourite pyjamas and slippers. Just when it can't sound any better, at the touch of button, you are transported into an exciting virtual world full of puzzles just waiting to be solved.
2. Health & Safety
I can't say I've never left an escape room without the odd bump or bruise. Sometimes you get so caught up in the game that you forget your surroundings and accidents ensue (or maybe that just me and my accident prone ways). Anyway, in the virtual world there's not much chance of that happening, in fact, the only thing likely to hurt is your brain, what with all that thinking you're going to have to do! Also, all claustrophobics are welcome here since you arent actually locked in a confined space like you are in the real deal (one of our friends also has worries about being locked in a room so these were perfect for them).
3. You play wherever you want
One of the best things about online escape rooms is that you can play from anywhere in the world. If you want to play one when you are on holiday or with friends who live in a different country from you, then go ahead! Thanks to the online nature of this type of escape room there are no limits.
4. You play whenever you want
An online escape room means you can play whenever you want to, no set times or schedules, just whenever you and you friends feel like playing a game you can.
5. Pure imagination
Online escape rooms can also greatly develop the imagination. Without the ability to use your five senses, you must use your imagination to enter a world full of mystery.
6. Plans aren't set in stone
This gives you options so that you can choose the best time for you and your friends to enjoy the escape room. Unlike an actual escape room, if change your mind and want to play at another time you can. Also if you need to stop unexpectedly then you can pick up your game at a later time!
7. Big Brother is not watching
In an actual escape room, a member of staff is usually watching you to keep track of how you are doing and be there when you need clues. They see your every move, even your mistakes. Online, only your friends will be watching so I'm sure there will be no judgement. Well actually they're your friends so let's face there will be some judgement.
8. Hints are there to be used
You don't have to worry about using the hints in an online escape room, there's no shame even if you needed the answer for single every puzzle… no one need know… it'll be your little secret
9. It isn't a gym
In an online escape room, you get to concentrate on solving puzzles, not on managing an obstacle course as well. It's a mental challenge, not a physical one. Unless you prefer running about and sweating while trying to solve puzzles, in which case… what's wrong with you!
10. It's world-wide
Online escape rooms are in many different languages however, most are in English since a large portion of the world's population speak this language, making online escape rooms even more accessible.
11. The more the merrier
In an actual escape room, you have a certain number of people who can play at one time. If you want to play with a larger group, you have to wait for one team to finish and for the other to start. In an online escape room, you can buy multiple vouchers and compete with several teams at the same time or have multiple people round the same computer at a location (max of 6 computers – 3 per team – for our game).